Your Local Store
SkipperBud's Marina Del Isle
Sales Hours
Monday:

9:00 AM - 5:00 PM

Tuesday:

9:00 AM - 5:00 PM

Wednesday:

9:00 AM - 5:00 PM

Thursday:

9:00 AM - 5:00 PM

Friday:

9:00 AM - 5:00 PM

Saturday:

9:00 AM - 4:00 PM

Sunday:

Closed
Service Office Hours
Monday:

8:00 AM - 4:30 PM

Tuesday:

8:00 AM - 4:30 PM

Wednesday:

8:00 AM - 4:30 PM

Thursday:

8:00 AM - 4:30 PM

Friday:

8:00 AM - 4:30 PM

Saturday:

8:00 AM - 2:00 PM

Sunday:

Closed
6801 E. Harbor Road
Marblehead, OH 43440
SkipperBud's
Marina Del Isle
Find your dream vessel and enjoy the ultimate on-water experience with SkipperBuds Marina Del Isle. Discover our wide selection of boats and marine services, and enjoy our exceptional customer service and boating solutions.
Heated showroom for boats 18 to 80 feet
Large in-water sales display
Largest yacht dealer on the great lakes; Cruisers Yachts, Gran Turismo, Swift Trawler, Monte Carlo, Scout Boats, Azimut Yachts, Galeon Yachts and Tiara Yachts
Mechanical and technical capabilities on all engines or boat types
Cosmetic repair including bottom paint and fiberglass
Electronic and audio-visual installation
Special customization; thrusters, joystick controls, satellite TV, under water lighting
Interior customization; new cabinetry or furniture upgrades, new flooring inlays
Other services include: detailing, trailer repair, custom canvas repair/replacement, name painting and boat transport
Professional, knowledgeable staff with many years of new, pre-owned, boat and brokerage experience
More than 1200+ used boats sold last year, totaling more than $100 million in sales
Brokerage listings featured on yachtworld.com, boats.com, boattrader.com
Pre-owned boats on site
Destination marina near Putt in Bay and Cedar Point Amusement Park
On-site restaurant - Cleats Club Seat Grille, home of the world's best wings
Financing and re-financing available
SkipperBud's in Marblehead is your full service marina facility in East Harbor! Take your garage back! Store your boat in SkipperBud's clean, secure facilities. Owners have access to their boat posted business hours.
Storage Options Available at your Marblehead SkipperBud's facility:
Indoor Heated
Indoor Cold
Outdoor
Seasonal In/Out service.
SkipperBud's Service Department has many services to help keep your boat looking great and running at peak performance! From cleaning and detailing, minor and major engine repairs or fiberglass repairs, SkipperBud's is your one stop shop for all your boating needs!
Did you put off some updates on your boat this year?
Upgrade electronics or entertainment system
Repair fiberglass dock rash
Professional buff and wax
Custom cleaning
Canvas replacement
Our team is standing by. Contact our service team today for a custom quote!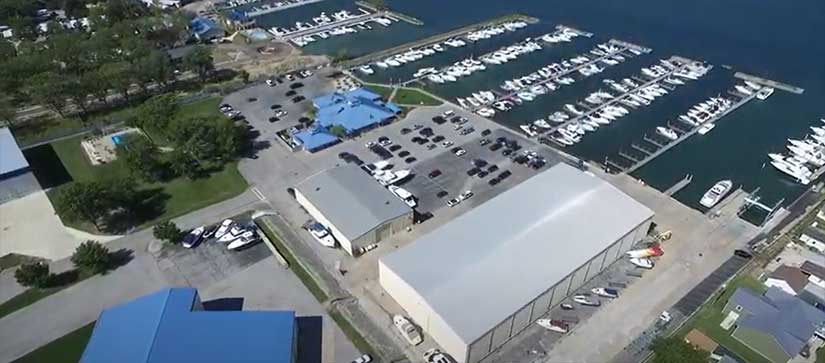 SkipperBud's Marina Del Isle Location
Take a Tour of
SkipperBud's Marina Del Isle Location
Get in touch with SkipperBud's Marina Del Isle